Blog
How to Pick the Perfect Dermal Filler
Dermal fillers are everywhere. And why not? They can take years off of your appearance without surgery. We like fillers over surgery because they offer natural-looking results with no downtime, low risks, and an attractive price point. And thanks to the debut of modern synthetic options two decades ago, dermal fillers have come a long way.
Fillers have exploded in popularity, and there are more types and uses for them than ever. But for someone considering their first filler treatment, or even for experienced filler patients, all of these options can be overwhelming. How do you now where to start? Keep reading, but the short answer is: find the right expert.
Choosing the Right Dermal Filler or Lip Filler
The best way to choose the perfect filler for you is to get an expert evaluation and recommendations from an experienced injector. Your injector will recommend the best filler for your needs after a careful evaluation of your face and discussion of your goals.
That said, it doesn't hurt to go in to your consultation with some general knowledge about the types of fillers and their applications.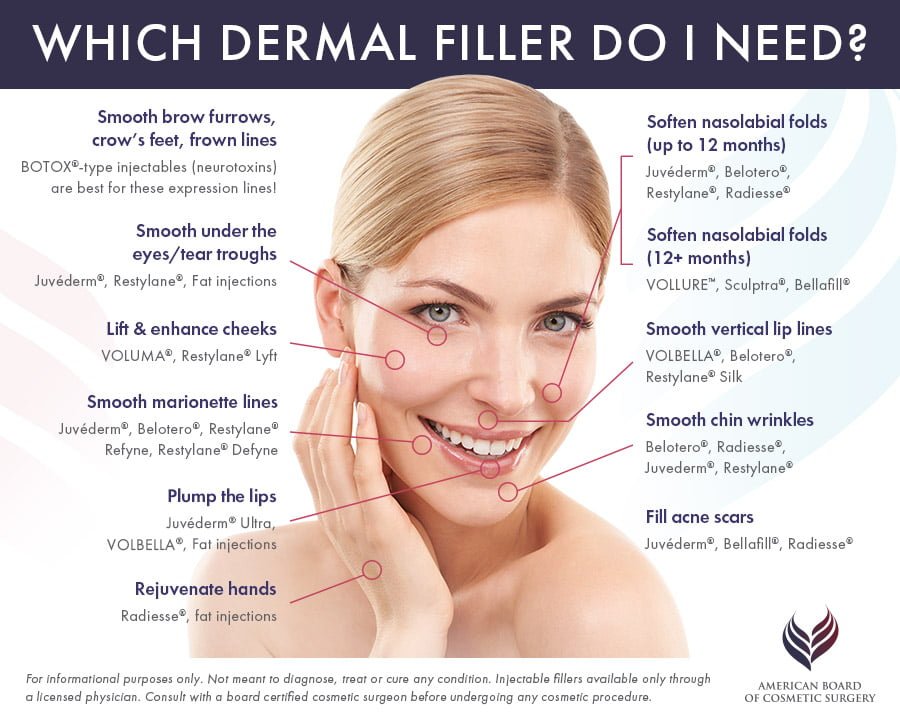 Fillers available at Radiance
Juvederm
Juvederm is a well-known, tried and true filler made with hyaluronic acid gel. Injectors often recommend Juvederm for smoothing the lips and surrounding skin, cheeks, undereyes, and other areas.
Restylane
Restylane Defyne is specifically a chin filler composed of hyaluronic acid. It can add shape and definition to the chin and jawline for a broad range of patients.
Restylane Kysse is another Restylane product specifically formulated for enhancing the lips. Restylane touts fuller, softer lips with a natural feel.
Voluma
Voluma is a Juvederm product but is a newer, longer-lasting, and thicker formulation. These distinct qualities make it a good option for the cheeks and mid-face.
Radiesse
Radiesse is an excellent option that addresses folded or dimpled skin. It works well on the lower face (laugh lines and nasolabial folds), jaw, acne scars, and hands.
Belotero
Belotero is recommended for more delicate areas as it works on fine lines but it is effective even on deeper fine lines. For this reason, it is often used around the lips but is considered quite versatile.
Sculptra
Sculptra contains poly-L-lactic acid and it is marketed as a longer-lasting filler option. The collagen-boosing effects can last for more than two years. It works well on fine lines, particularly around the mouth, such as smile lines and jowls, but it can also be used on other areas, like the temples.
Volbella
Volbella is a Juvederm product that is considered very soft and long-lasting. It is ideal for lip natural-looking lip enhancement.
How Do You Know Which Filler is Right for You?
Many fillers can overlap when it comes to which areas they treat well. In addition, each patient has unique needs. It may be possible to use several fillers in a specific area, but which filler your injector recommends will depend on your individual needs and goals.
It is important to keep this in mind if you are leaning towards a particular type of filler. Let your injector know your preference but also discuss your concerns and goals in detail. Be open to an experienced injector's opinion and recommendations, as other options may be the better choice for you.
Choose the Right Injector
Choosing your provider is not only important for having your injection treatment done by an experienced and qualified professional, but also because knowing which filler to choose for which treatment areas, skin issues, and patient goals is crucial.
At Radiance Medspa, you know you are working with experienced experts. We have achieved Platinum Plus status with Allergan injectables, which produces several of the treatments we offer, including Botox and Juvederm products, as well as others. This prestigious recognition highlights our successful treatment of a high number of patients with injectables and fillers.
Schedule a consultation and let Radiance Skincare and Laser Medspa help you sort through all of these excellent possibilities to figure out which filler option is the perfect choice for you!